NEWS ROOM
You are viewing a single news story. You can
see more
.
2019-07-14 The "Lars Feature" Tour Update
[link]
Today we have a significant update of our Tour Archive to announce! There's a lot of new stuff we'll show you below. The short version is stats, stats, stats! More tour information than you could want. But first, a bit of background.
When I had my Hardwired M&G in Pittsburg, PA last year I was showing Lars our
Personal Tour Report
. He showed me a fansite for another band and asked me to add some of those features. On that site, every part of the tour section was a link - click a city, see all shows in that city, click a song, see all shows where they played that song.
Having them be links seemed cool, but I thought, IPOM can do better. So the first thing we added was stats (and of course links) for
every single song on every single show
.

And our software automatically calculates song premieres, so for the Webster Hall show, for example, you'll see
Moth
was premiered:

It was important to us that this information was automatically calculated; as humans we were likely to mess it up, but the software can figure this out for us. However, this does lead to a few weird corner cases: for very early shows, where we don't have setlists for every show, the software may say a song is premiered at a show but it was actually premiered at an earlier show we don't have a setlist for. We think this downside is worth it for knowing that the data is impeccably accurate for anything modern, however.
At the top of every show page you'll also see useful stats and links:

There's an interesting problem we discovered while working on this. The Wells Fargo Center has been called other things, so that can't just be the count of shows where the venue is "Wells Fargo Center"! This required a lot of effort. First we changed our software to understand the concept of different venues being the same physical place. Then we spent 2 months going through all of our venues, doing research and trying to find all of the venue renames we could. The result is, if you click on that link above next to "Wells Fargo Center", you'll
get a result
that includes all shows at that physical location: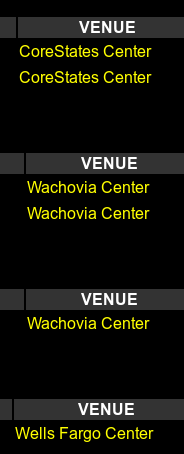 And when we went to do
that
we realized that there was a lot of mistakes and inconsistencies in our venue data... and in everyone else's too. So as part of that two months, for each show we compared our venue to
Metallica.com
, ticket stubs on ebay and on
MetPage
, Wikipedia entries, other fan sites, pictures of posters, venue websites, and more. We pulled in friends from countries all over the world to translate old PDFs, ask people who were at shows. It was a lot of work, but we believe we have some of the best venue data in the world. It's not perfect, and we're still working on it, but it's pretty darn good.
While we were at it, we decided we could make the Tour Archive a bit easier to use. Our quick menu at the top of each page now has a dropdown so you can easily jump to a specific year or tour with a single click:

Meanwhile, on any tour or year page, the location is a link that will take you to all shows in that city, the venue is a link to all shows
in that physical location
, as you'd expect:

Of course this all started with the Personal Tour Report, and it's not been left out! The whole thing is filled with links that work similarly to the links on a tour or year page, but the results are limited to shows you've seen. So if you click on "San Francisco, CA - USA" in the list of shows on your report, you'll get a list of all shows
you've seen
in San Francisco.
One thing we have not yet gotten to yet is proper unicode support for non-English characters, but it's on the list! In the meantime we've moved to a more internationally-friendly date format. :)
There are a variety of other little fixes, changes, improvements all over, but these are the big changes. It's been a lot of work and we hope you enjoy the results. As with all new software, there may be bugs, please don't hesitate to reach out to us if you think you found one!
We have several more things planned. And stay tuned, because we'll be announcing a way you can help us out and win some prizes very soon! Finally, we hope you'll follow our new
new Facebook page
to get updates!
There was 1 match
---
© 1997 - present Phil Dibowitz
Please read our Copyright Info
---