Metalli-FAQ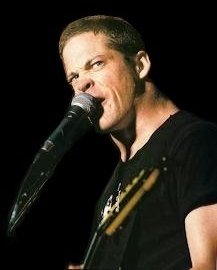 Welcome to the IPOM FAQ (Frequently Asked Questions). Here you will find the answer to the most commonly asked questions about Metallica. Think there's a question that should be here, that isn't? Send it in.
Last Updated: 01/30/04
I. GENERAL
BAND MEMBERS
MATERIAL
TRIBUTES, COVERS, AND MISCELLANEOUS
---
GENERAL
Where did the name "Metallica" come from?


A man out of San Francisco named Ron Quintana (a.k.a. Mr. Metal) was starting a Metal Magazine. He asked Lars (they were friends), what he thought of the names he had come up with. Lars heard the name "Metallica," and suggested something else, so he could use "Metallica" himself. The magazine ended up being called "Metal Mania." So all of those rumors you heard about Lars stealing the name "Metallica" are true.


How did Metallica start?


James and Lars met through an add in a magazine/newspaper called The Recycler in LA. When they got together, James discovered that Lars sucked. He couldn't play very well, and his drum set was so bad, every time he hit the cymbals, they would fall down. So James left. They later met up again, and James gave Lars another chance, they got together, and the rest is history.


Is it true that John Bush was asked to sing for Metallica?


Yes, they asked the (at the time) frontman for Armored Saint, who is now the frontman for Anthrax, John Bush, to sing for them. James preferred rhythm guitar over singing, and wasn't comfortable doing both. John flat out said no, so James continued to sing and play rhythm.


What is that song they play before shows as an intro?


"Ecstasy Of Gold," from the Clint Eastwood movie, "The Good, The Bad, and The Ugly." It was written by Ennio Morricone. They have been using that since 1983 (earliest I know of -thanks to Dan- is 3/5/83, Cliff's first gig, and Dave's third to last gig).

In 2007 a tribute to Ennio Morricone came out which featured a version of "Ecstasy of Gold" performed by Metallica. Metallica first played this version of the song live in Copenhagen on July 28, 2009.


What equipment does the band use?


James
James primarily uses ESP Explorers of various types and some ESP Flying V's. He has several signature guitars from ESP.
JH-1 - Original signature series - a black Flying-V which came with either red or green flames
JH-2 - Black diamond-plate explorer
JH-3 - Les Paul shaped guitar which was black with pin stripes and checkered flag fret inlays (seen on the Reload tour)
Truckster - Les Paul-shaped guitar, with layered paint: black, white, red, then gray (gray on the top) which has been sandpapered away at various spots to show the underlying colors and appear "worn."
Truckster Ltd - Same as the Truckster but with a slightly different wear pattern and strap locks.
The Iron Cross - Black Les Paul-shaped guitar with an Iron Cross and gold stripes (from the Death Magnetic tour)
The last three are currently available and can be seen
at ESP
. James also has two Ken Lawrence explorers - the first one known for its wood-grain look and distinctive sharp headstock. James works with ESP who makes several custom guitars for him - many more than get sold as signature series. James uses EMG pickups, and Ernie Ball Strings. Mesa Boogie MK II Simul-class amp.
Lars
Lars uses Tama star Classic drums with Remo heads, iron cobra pedals, easton ahead durmsticks, and Zildjian Cymbals. On the Black album he used Gretsch Drums.
Kirk
Kirk is a guitar collector. He's constantly buying them so keeping track of all of them is nearly impossible. Like James his main touring guitars are ESP and he has a long line of signature series. At the time of writing, all of his signature series are still available:
KH-2 Ouija Black
KH-2 Oujia White - the Ouija board in black and white
KH-2 Vintage - a black guitar that looks fairly beat up
KH-2 NTB - same guitar but looks new
KH-2 - similar to the NTB, but with a flat neck instead of a U neck
KH-Ouija - self-explanitory
KH-602 - similar to the NTB, but with a neck-thru-body design and a 1000 series bridge
KH-202 - similar to the KH-2, with different tuners
KH-JR - a 3/4 scvale tuigar with 011-052 gauite strings.
All these guitar are listed at
ESP
. In addition to these he uses various vintage guitars. Kirk perfers Dean Markley strings and Mesa Boogie Amps.
Rob
Rob primarily uses bass guitars from Fernandes, Zon, and Music Man. He likes Ampeg SVT II amps, Ampeg 8x10 speaker cabinets, Mesa Boogie Rectifier amps, and Mesa Boogie 4x12 speaker cabinets, Morley Power Way pedals, Dean Markley strings, and EMG pickups.
Is it that true they wear earplugs on stage?
Yes
Who made the old Metallica logo?
James
Who made the Metallica star (4 M's)?
James
Who came up with the name "Alcoholica"?
A fan was wearing a Kill 'Em All t-shirt, except there was a vodka bottle in place of the hammer, and the vodka was spilling which replaced the blood. It was made due to the band's obvious love of drinking. The band saw the fan wearing the shirt in Europe, in 1985, and liked it, so they started using it for themselves.
Who is Doris?
Doris is Lady Justice's (the statue of liberty with the scales on "...AJFA") nickname
Is there a Metallica Fan Club?
Yes, The Metallica Club was formed in 1993, it is run by the band and is great. If you're not a member visit the website at
The Official Metallica Club
. They also run
Metallica.com
, the official public Metallica website.
What does NWOBHM stand for? What does Metallica have to do with it?
It stands for New Wave Of British Heavy Metal, which is Metallica's influence and there is a lot of NWOBHM in Metallica, but it isn't really NWOBHM itself.
What's the deal with some records on Megaforce and some on Elektra?
Metallica originally signed with Megaforce Records. After
Ride The Lightning
, they changed to Elektra and re-released
Kill 'Em All
and
Ride The Lightning
with Elektra. Upon the re-release of
Kill 'Em All
they added
Blitzkrieg
and
Am I Evil?
. They then decided they didn't like that arrangement and re-re-released it without the extra tracks. The few CDs with the extra tracks are rare today.
Why did the band move from Los Angeles to San Francisco? When?
Way, way back in time, when they asked Cliff to join the band, he said he wouldn't unless they moved to where he lived (San Francisco), so they did. The move was in 1983.
Who is Q-Prime?
Q-Prime is their management company.
Who is Flemming Rasmussen?
Flemming is their old producer (up until
Metallica
aka The Black Album).
Who is Bob Rock?
Bob Rock was the band's producer from The Black Album through St. Anger. He also played bass on St. Anger.
Producer/Management/Record Company: who does what?
The Producer (Flemming/Bob) works with them in the studio, giving them ideas and helping them out. Management is more in the business end of things, and the Record Company publishes and releases the CDs (or tapes, etc.).
Who does their shirts and other art work?
Lots of different things came about different ways. Pushead, who is actually a guy named Brian Schroeder, did most of it, and then Mark Devito came along, and started doing mostly the club art work. Pushead does more of the other art work. Tony Squindo did much of the club art work for a while, but it is now once again usually done by Pushead. Don't forget though, that James designed the logos, and the album covers all have their own story (i.e. question #47).
How many Grammy awards have they been nominated for? Won?
1989 Nominated: "Best Metal Performance" for ...And Justice For All, lost to Jethro Tull.
1990 Win: "Best Metal Performance" for One
1991 Win: "Best Metal Performance" for Stone Cold Crazy (Queen cover)

1992 Win: "Best Metal Performance" for Metallica
1999 Win: "Best Metal Performance" for Better Than You
1999 Nominated: "Best Hard Rock Performance" for Fuel, lost to Page and Plant's "Most High."
2000 Win: "Best Hard Rock Performance" for Whiskey in the Jar
2001 Win: "Best Rock Instrumental Performance" for The Call of Ktulu from S&M (Michael Kamen was also part of the nomination/win)
2004 Win: "Best Metal Performance" for St. Anger
2005 Nominated: "Best Hard Rock Performance" for Some Kind of Monster
2008 Nominated: "Best Rock Instrumental Performance" for Ecstasy of Gold
2009 Win: "Best Metal Performance" for My Apocalypse
2009 Nominated: "Best Rock Album" for Death Magnetic
2009 Nominated: "Best Rock Instrumental Performance" for Suicide and Redemption
2009 Win: "Best Recording Package" for Death Magnetic
What does Ktulu mean?
Ktulu, spelled as is, means nothing. The actual spelling is Cthulhu, and is a tentacled faced creature, in one of H.P. Lovecraft's books. It lies on the bottom of the ocean waiting for the call to awaken, from his followers.
What was the first Metallica show?
It was with the Hetfield, Ulrich, McGovney, Mustaine line-up, and was at the Radio City in Anaheim, CA supposedly on March 14, 1982.
What/When was the first Metallica tour?
It was the
Kill 'Em All For One
tour and was from 07/27/83 through 09/03/83.
What does Metallica have to do with the Make-A-Wish Foundation?
The Make-A-Wish Foundation is an organization that tries to grant one wish of terminally ill kids. Metallica actively helps the Foundation as much as they can. When children ask to see Metallica, the band flies them out, and gives them free tickets, passes, and spends some time with them.
What is the significance of Tommy's Joynt?
Tommy's Joynt is a Hoffbrau that the guys in Metallica frequented. It is also the place that the guys asked Jason to join the band. Today it often servers as a meeting place for Metallica fans in San Francisco.
Who is E/M Ventures?
A result on the law suit between Elektra and Metallica. Metallica now owns their masters and while Elektra is technically the record company, the record company is also contractual agreement entitled E/M Ventures (Elektra/Metallica Ventures). We realize this is still a little unclear, but it's as much as we know about the deal. Also noteworthy, is that the albums that say E/M Ventures on them have been remastered.
Who was the Maxwell House Ranch Band?
A band who gathered at the Maxwell House Ranch, which was a place where the band sometimes gathered to jam, goof around, and hunt. The lineup is as follows:
Jason Newsted (originally Cliff Burton) - Bass/Drums
Jim Martin - Guitar/Drums
Lou Martin - Harp/Drums
Dave Dunotto - Drums
+ many guests
James Hetfield - Guitar/Drums
Kirk Hammett - Guitar/Drums
Lars Ulrich - Drums
John Marshall - Guitar/Drums
Tony Prinzivalli - Guitar/Drums
Eric Braverman - Drums/Vox
THE BAND MEMBERS
Why do I see their names spelled different in different places?


James's name is often spelled Jaymz
Lars's name is often spelled Larz
Kirk's name is sometimes spelled Krk
Jason's name is sometimes spelled Jasun

On the back of Garage Days Re-Revisited they all spelled their names wrong. James's and Lars's stuck, the other's are used occasionally.


Who are all the CURRENT band members?


James Hetfield - Rhythm Guitar & Lead Vocals
Kirk Hammett - Lead Guitar & Backing Vocals
Robert Trujillo - Bass Guitar & Backing Vocals
Lars Ulrich - Drums


Who are all the FORMER members of the band?


Cliff Burton- Bass (2/10/62 - 9/27/86, died on MOP tour)
David Mustaine- Lead Guitar (removed)
Ron McGovney- Bass (removed)
Damien Philips- Second Guitarist (appeared once in concert, real name: Brad Parker)
Lloyd Grant- Lead Guitar (just for original demo work on "Hit the Lights)
John Marshall- Rhythm Guitar (filling in when James was burnt)
Jason Newsted- Bass Guitar & Backing Vocals (left the band in January 2001)


What are the current members full names and birthdays?


James Alan Hetfield - 8/3/63
Kirk Lee Hammett - 11/18/62
Lars Ulrich - 12/26/63
Robert Trujillo - 10/23/64


What are their heights?


James Hetfield 6'1"
Lars Ulrich 5'7"
Kirk Hammett 5'7"
Robert Trujillo 5'9"


Weights?


James 180 lbs
Lars 130 lbs
Kirk 134 lbs
Jason 150 lbs


Is anyone married?


James - Is currently married to Francesca. They were married on 08/17/97.
Lars - Is currently not married, but is with Connie Nielsen. He was previously married to Skylar (married in Las Vegas on 01/26/97) and previously to another woman.
Kirk - Is currently married to Lani. They were wedded in Hawaii on 01/31/98. He was also married once before.
Rob - Is currently married to Chloe.


Who is Cliff Burton?


Cliff Burton is the former bass player for Metallica. He died in a bus crash on the Master Of Puppets Tour in the morning on 09/27/86. The bus was on it's way from Stockholm, Sweden to it's next gig.


Where were Cliff's ashes spread?


In the Bay Area including the Maxwell Ranch


What's the story with Dave Mustaine?


He was kicked out for overly abusing alcohol and other substances and that caused him to actually be destructive to the band. They woke him up one morning on the trip cross-country to go sign with Megaforce Records and handed him a greyhound bus ticket.


What other bands have they been in?


James - Obsession, Phantom Lord, Leather Charm
Lars - none
Kirk - Exodus
Rob - Suicidal Tendencies, Infectious Grooves, Ozzy Osbourne


What cars/trucks do they drive?


James - Chevy Blazer, Dodge Ram, 1955 Chevy BelAir hot rod, and a custom-built Harley Davidson (chopper)
Lars - Porsche, Chevy Blazer, Range Rover, and a Saab
Kirk - 1955 Dodge Coronet ("Kirkstine"), Land Cruiser and a Mountain bike
Rob - ?


What do they like to drink?


James - James has quit drinking, but used to drink: Coors Light, Bombay Sapphire Martinis, and Pacifico
Lars - Coors Light, and Bombay Sapphire Martinis
Kirk - Martinis and Guinness
Rob - ?


What do they do in their spare time?


James - Likes to hunt, and spend time with his wife, Francesca.
Lars - Likes movies, scuba diving, skiing, giving speeches, and spending time with his girlfriend and kids.
Kirk - Kirk spends much of his free time surfing. He also loves to watch horror movies, collect horror movie related stuff (i.e. comic books), mountain bike, and spend time with his wife, Lani.
Rob - Enjoys surfing, hanging out, anything related to music, and spending time with his wife and kid.


When and where did James get burned, and what happened?


At a Montreal show on 08/08/92. There was a change in the pyro (Pyro-technics, all those cool explosions) and the band was told about it, but the pyro-tech, however, failed to tell the band that the new pyro went along with the old pyro, and James stood where a 12ft. flame was ignited, and severely burnt the left side of his body including his hand.
The new pyro was flames along "wings" of the stage, during Fade.


What does the tattoo on Kirk's stomach say?


"Made In SF 11-18-62"


What other tattoos do the band have?


James- Left arm: 4 flaming playing-cards, underneath which it says "Carpe Diem Baby." Right arm: A spider web, a skull, a devil's trident, flames and banners thay say "Live to Win" and "Dare to Fail," a stained-glass style angel. Chest: Two sets hands together praying with a "glowing" cross between then and the name "Cali" over the cross, the name "Marcella" to the left of one set of hands, and the name "Castor" to the right of the other set of hands. Inside right arm: The word "faith" with wings. Back: The words "lead foot" with a horse-shoe, some flames, and some lines. We have pictures of James tattoos here). Kirk - Flames on his hips, "Made in SF 11-18-62" over his stomach.
Cliff - Misfits Skull


What piercings do/did the band have?


James - Used to have his right nostril pierced, but he took it out.
Kirk - "Both ears, lip, belly button, and nose twice. I'm working my way south." - Kirk Hammett
Lars - "I have a lot of peircing in my ears and my left nipple is peirced but not anything below." - Lars Ulrich
Rob - ?
Jason - None
Cliff - None


Didn't James used to play a Flying V?


Yes, and then the headstock broke, so he had to switch to his back up guitar, the Explorer. He realized he liked it better and stuck with it. At the time he was using a Gibson Explorer, but later changed to his well known ESP Explorers.


Where did Cliff get his skull ring?


At The Great Frog, in London.


Where did James get his skull ring?


It was Cliff's.


Where did James get his wolf pendent?


James's wolf pendent was also bought at The Great Frog in London.


When was Jason's last Flotsam and Jetsam gig?


Jason's last gig with Flotsam and Jetsam was on 10/31/86.


What was each member's first concert?


Lars: Deep Purple
Kirk: Thin Lizzy
Jason: Ted Nugent
James: Aerosmith & AC/DC


Who is The Music Company?


The Music Company is a record label that Lars' started. He eventually closed The Music Company, and the label's bands went to Elektra.


Do any of the members have children?


James has a daughter named Cali Tee (born 6/13/99), a son named Castor Virgil (born 05/18/00), and a daughter named Marcella Francesca (born 01/17/02).
Lars has two sons with his ex-wife Skylar: Myles (born 08/05/98) and Layne (born 05/06/01), and one son with his girlfrined Connie: Bryce Thadeus Ulrich-Nielsen (born 05/21/07).
Kirk has a son named Angel Ray Keala (born 09/29/06) and a son named Vincenzo Kainalu (born 06/28/08).
Rob has a son named Tye-Orion (born in August 2004), and a daughter named Lula.
METALLICA'S MATERIAL
What are all their Music Video's?


One (3 versions), Enter Sandman, The Unforgiven (2 versions), Nothing Else Matters, Wherever I May Roam, Sad But True, Until It Sleeps, Hero of the Day, Mama Said, King Nothing, The Memory Remains, The Unforgiven II, Fuel, Turn The Page, and Whiskey in the Jar, No Leaf Clover, I Disappear, St. Anger, Frantic, The Unnamed Feeling, Some Kind of Monster, The Day That Never Comes, All Nightmare Long, and Broken Beat, and Scarred..

There are 3 versions of the "One" video, the original, with movie clips (from "Johnny Got His Gun") and jamming, the shorter version, with less of both, and the "jamming version" with just the band jamming. The other two were created for time restraints.

There are 2 versions of "The Unforgiven" video, the one played most of the time which starts with the music, and is the same length as the song. The original, however, is 16 minutes, and rarely played. It contains an intro that starts with music, then the music fades, and there is silence for the rest of the intro, and then the song starts normally again.

Mama Said has only been released in Europe, and will not be released in the US.

All these videos are available online, for free, at Metallica.com.


What other videos has the band made? Where has the band's music appeared?



Cliff 'Em All - a video dedicated to Cliff Burton. It's a bunch of old interviews and shows w/Cliff put into a home video
2 of One - An interview with Lars, and 2 versions of the music video "One," the original, and the jamming version (just them jamming, much shorter, for showing on MTV [eMtyTV])
A Year And A Half In The Life Of Metallica - this has two parts. You can buy them as separate vids or both vids together in a box. This is documentary of 1 1/2 years of their life, through the making of the Black Album, and the Wherever I May Roam Tour.

Live Shit: Binge and Purge - a box set with 3 vids and 3 CDs. The first two vids are of the 1992 show in San Diego, and the 3rd of 1989's show in -Seattle. The CDs are of 5 Mexico shows in '93
Cunning Stunts - Fort Worth, TX (May 9-10, 1997) VHS and DVD
S&M
Yes, We have a video! (Fan Can #1 video)
Fan Can #2 Video
Fan Can #3 Video
Paradise Lost: The Child Murders at Robin Hood Hills - 1st movie to LEGALLY contain music from Metallica.
Paradise Lost 2: Revelations.
Spawn - 2nd movie to LEGALLY contain music from Metallica (Re-mix of "Bellz" by DJ Spookey, and "Satan"- a song by Kirk and Orbital)
Mission: Impossible 2 - Metallica wrote a song entitled I Disappear for the soundtrack of M:I-2.
Some Kind of Monster - A Documentary covering over a year of Metallica's life around the making of St. Anger.
Metallica: THe Videos 1989 - 2004 - a DVD of all of their music videos through 2004.
Also various appearances in "For Those About to Rock: Monsters in Moscow", "A Concert For Life", "25th Anniversary of Woodstock"and "The Best Of The Grammies"
What was "No Life 'Til Leather?"
No Life 'Til Leather (NLTL) was Metallica's second group of demos. It included:
1. Metal Militia
2. Seek And Destroy
3. Phantom lord
4. Hit The Lights
5. Motorbreath
6. Jump In The Fire
7. The Mechanix (currently The Four Horsemen)
Note: Original lyrics written to Mechanix, were by Dave Mustaine, and are not used in The Four Horsemen.
These versions are a little different from the KEA versions you're used to. The demo got around the Metal Underground fast getting the Metallica word around.
Garage Days, GD Revisited, GD Re-Revisited, Garage Inc., GD Re-Revisited And More, GD2, GD3, GD4, etc.: what are they?
The first Garage Days was entitled "Garage Days Revisited," and it consists of 2 songs on the B-side of the Creeping Death 12" EP. The songs were:
1. Am I Evil? (by Diamond Head)
2. Blitzkrieg (by Blitzkrieg)
(*Note: these songs were added to the re-release of KEA, when Elektra took over, and they have since been removed)
and it was released Nov. 1984.
"Garage Days Re-Revisited" was released Aug. 1987, after the tragic accident on the MOP tour. It was done for two reasons, to get a feeling going with the new bassist, Jason Newsted, and as a follow up to the original. The songs are as follows:
1. Helpless (by Diamond Head)
2. The Small Hours (by Holocaust)
3. The Wait (by Killing Joke)
4. Crash Course In Brain Surgery (by Budgie)
5. Last Caress/Green Hell (by Misfits) (also includes joke cover of Iron Maiden's "Run To The Hills" as the music fades in the end)
"Garage Inc." was released Nov. 24, 1998, and includes all the cover songs they ever recorded, plus 11 more.
The above 3 were released by the band, and are all cover songs (the lyrics can be found in the
Lyric World
).
Garage Days Re-Revisited And More, Garage Days 2, GD3, GD4, etc., are all bootlegs, not official releases.
What are all the band's studio albums?
Kill 'Em All
Megaforce/Elektra 1983
Ride The Lightning
Megaforce/Elektra 1984


Master Of Puppets
Elektra 1986
...And Justice For All
Elektra 1988
Metallica
Elektra 1991
Load
E/M Ventures 1996
ReLoad
E/M Ventures 1997
Garage Inc
E/M Ventures 1998
S&M
E/M Venutres 1999
St. Anger
E/M Ventures 2003
Death Magnetic
E/M Ventures 2008
*Note: Some people consider GDRR an album, however it is only an EP.
*Note: Some people consider NLTL the first album rather than KEA, but it is an EP of demos.
Where have the Metallica albums peaked on billboard, and for how long?
| | |
| --- | --- |
| Kill 'Em All | #120 (Feb '88) |
| Ride The Lightning | #100 (Spring '85) |
| Master Of Puppets | #29 (shortly after its release) |
| Garage Days Re-Revisited | #28 (about a month after its release) |
| ...And Justice For All | #6 (4 weeks after it's release) |
| Metallica | debuted at #1 and stayed for 4 weeks |
| Load | debuted at #1 and stayed for 3 weeks |
| ReLoad | debuted at #1 |
| Garage Inc | debuted at #2 |
| S&M | debuted at #2 |
| St. Anger | debuted at #1 for one week, dropping to #2 |
| Death Magnetic | debuted at #1 for three weeks |
How was the intro to "Wherever I May Roam" recorded?
James played it on an instrument called a Sitar.
What is the cover of Load? Reload?
The cover of Load is a photo by an artist named Andres Serrano entitled "Semen and Blood III." This was created with cow blood and his own semen, pressed together between two pieces of glass. The cover of Reload is a also photo by Andres Serrano entitled "Piss and Blood." It was made, obviously, with urine and cow blood pressed between two pieces of glass.
What is the Green RTL?
Image courtesy MetalMerge@aol.com. Please contact IPOM for permission of use.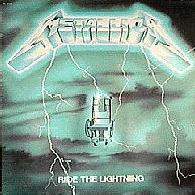 When an error occurred in a printing press in Europe, a few copies of Ride The Lighting came out green instead of blue. Today these copies are very, very rare.
What does S&M mean?
S&M, for the purpose of the album, refers to Symphony and Metallica. It's also a pun on a sexual term S&M which stands for sadomasochism, which according to websters dictionary means "the derivation of pleasure from the infliction of physical or mental pain either on others or on oneself."
What are the benefits of gold CDs?
Gold CDs last much longer than ordinary CDs. They also have a superior sound quality.
How do you tell apart the remastered CDs from the originals?
If the CD says "E/M Ventures" on it, it's the remastered version. Also, Gold CDs have been remastered. Often time you'll also see a 'remastered' sticker on it.
TRIBUTES, COVERS, AND MISCELLANEOUS
Is it true that a cello quartet made a tribute album to Metallica?


Yes, They're called Apocalyptica, and they have two albums. The first is entitled "Apocalyptica plays Metallica by four Cello's" and it includes "Enter Sandman," "Wherever I May Roam," and "Creeping Death." The second is entitled "Inquisition Symphony" and that has original songs, Metallica covers, and covers of other bands.

There's also a band called The Angry String Quartet that has released a Metallica tribute album.


Who are "Die Krupps?" Is it true they made a tribute album to Metallica?


Die Krupps, is a German Heavy Metal band. Yes they did make a tribute album to Metallica. They say they did it because Metallica is one of the best Heavy Metal Bands in the world, and a big influence to them. Many people don't like the album, it's very techno-fied, but it's not bad.


What is IR8, and what was the big deal about it?


Jason did a side project called IR8. Then one of the songs was played on the radio station KNAC 105.5FM in LongBeach/Los Angeles, CA. The band (being not as open-minded as they are today), got very angry.
Also note, the DJ said before playing it said, "It's better to seek forgiveness, than to seek permission."


What is Spastik Children?


A joke band made up of:
James - drums and vocals
Cliff - bass
James (Flunky) McDaniel - guitar
Fred Cotton - vocals
Kirk took over bass when Cliff died. They never practiced, and it wasn't a serious band, they occasionally played here and there, but that's about it. The line up changed drastically over the years, and Jason and Jim (Jimbo) Martin have played a few gigs.


What is Voodoo Children?


A half Metallica band that had only one performance, which was in tribute to John Campbell in the summer of 1993. It was made up of:
Kirk - guitar
Jason - bass
Tony Prinzivalli - guitar and vocals
Whitey Chrobak - keyboard
Tim Lau - drums


Who is Battery? What bands have covered Metallica?


Battery is the Metallica cover band who opened on the Garage Inc. Promo tour.

Other bands who have done Metallica songs are:
Mighty Mighty Bosstones: Enter Sandman
Primus: Master of Puppets, and The Thing That Should Not Be
Pantera: Whiplash and Seek and Destroy
TygerTailz: Creeping death
Bands on "Metal Militia: A Tribute To Metallica" are:
Sarcazm: Motorbreath
Luciferion: Fight Fire With Fire
Idiots Rule: For Whom The Bell Tolls
Miscreant: Fade To Black
Snotrocket: Escape
Pagandom: Battery
Flegma: The Thing That Should Not Be
Ceremonial Oath: Disposable Heroes
Afflicted: Leper Messiah
Crystal Age: Damage, Inc.
In Flames: Eye of the Beholder
Dark Tranquility: My Friend Of Misery
Anthrax: Phantom Lord
Motorhead: Sandman
Kid Rock: Sad But True

There are also many other smaller and underground bands that have covered Metallica, but it would be impossible to list them all. These are the more well-known ones.


What bands have sampled Metallica?


Anthrax sampled Master of Puppets in I'm the Man, and The Pulp also sampled Master of Puppets in Metal Techno.


Who is Scrap Metal?


Scrap Metal is a band of Metallica's roadies that opened for the band at the 1987 Aardshok Festival in Zwolle, Holland playing a set of cover songs.


Who is Frayed Ends?


Frayed Ends is the name that Metallica played a warm-up gig under at two gigs at the Troubdour in LA in '88, and a gig at the Marquee in London in '90.


What is Rubaiyat?


A compilation album by Elektra commemorating their 40th Anniversary, on which Metallica performs Queens Stone Cold Crazy.

Special thanks to Dan Walpole and Dan Nykolayko.
Thanks to Olek and Alex.
If you have any suggestions, questions, or comments please e-mail us at: webmaster@ipom.com
---
© 1997 - present Phil Dibowitz
Please read our Copyright Info
---