NEWS ROOM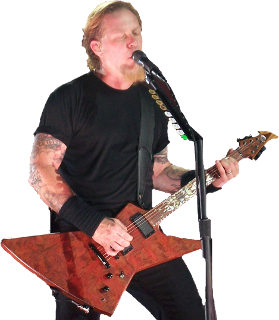 The News Room section of IPOM is where you will find the latest news about the band and the members themselves. We work very hard to bring you the all news as it happens, so please give credit if you use these stories. All news stories prior to this month can be found via the News Search. If you have questions, comments, or news stories, send them in.
2017-02-05 Metallica at Hollywood Paladium
[link]
After Metallica performs at the Grammy Awards on February 12th they will head over to the Hollywood Palladium to hit the stage one more that night. This time as part of Citi's Sound Vault music series. They will play the final night of the five show run celebrating Grammy week. Fifth Members can enter to win tickets at
Metallica.com
; the drawing will be done on February 9th.
2017-01-17 Metallica To Perform At The Grammy Awards
[link]
Metallica has been invited to perform at the 59th annual Grammy Awards telecast on Sunday February 12, 2017. Metallica teases they, "have something very unique and special planned for this celebratory night, so tune in to watch on CBS-TV." So, be sure not to miss it!
2016-12-08 More Worldwired Dates
[link]
Metallica has announced they will play a show in Los Angeles next Thursday, Decenber 15, 2016 at The Fonda Theater. Tickets go on sale tomorrow, December 9th. All proceeds go to the Los Angeles Regional Foodbank. You can find details at
Metallica's announcement
.
Then on January 15, 2017 the will play at the Mercedes-Benz Arena in Shanghai, China. Tickets go on sale on December 13th. Details at
Metallica.com
.
2016-11-30 Third Mexico City Show
[link]
Metallica has announced they have added a 3rd show in Mexico City at Foro Sol on March 5th since the first two have sold out. See
Metallica.com
for ticket details.
2016-11-29 US 2017 Date
[link]
The first US tour date of 2017 has been announced: Metallica will close out the three-day Rock on the Range festival which runs May 19-21, 2017. Metallica assures us it's the first of many. Early-bird tickets weekend tickets are already available on
rockontherange.com
and the general sale starts on Friday, December 2nd at 10:00 AM EST.
2016-11-21 Hardwired Goes #1
[link]
Over the weekend
Hardwired... To Self-Destruct
went number one in a staggering 57 countries! Further, it was Top 3 in 75 countries and Top 5 in 105 countries! Congratulations to the guys - that's an epic opening weekend! Metallica posted a
Thank You Note
in response to all the love and support.
2016-11-21 Toronto Show Added
[link]
Metallica has announced they will head to Toronto next week for a special show at the historic Opera House on November 29, 2016. Fifth Members can enter to win an opportunity to purchase tickets in a special pre-sale on November 23rd at 9am for only $25 each, and the public can purchase tickets an hour later at 10am. All proceeds from the show will be donated to
The Daily Bread Food Bank
. For details on entering the contest or buying tickets see
Metallica.com
.
2016-11-17 Hardwired in Lyrics and Lyric Theories
[link]
Full lyrics for
Hardwired... To Self-Destruct
are
now available
and we've also added all songs as options in
Lyric Theories
!
2016-11-16 Hardwired Videos Releasing Throughout The Day
[link]
Metallica is releasing videos for every song on
Hardwired... To Self-Destruct
every two hours today starting at 9am and going through until 3am tomorrow morning. Every song including
Lords of Summer
has a video! They will appear on
Metallica.com
's front page over the course of the day, so keep an eye on it!
2016-11-15 WorldWired Heads To Mexico City
[link]
WorldWired will head to Mexico City for a show at Foro Sol on March 1, 2017 with very special guest Iggy Pop! To make it even more special, all tickets include a copy of
Hardwired... To Self-Destruct
- either physical or digital! For information on how to buy tickets and redeem your copy of the album check out the
Metallica.com story
.
2016-11-15 Live From Germany
[link]
Metallica will be in 4 different cities around Germany tomorrow, November 16th, doing press, but at 3PM CET they will all come together on a multichannel livestream and take questions from Facebook and Twitter! You can ask questions at the time using the hashtag #AskMetallica and then follow along on
Metallica.com
!
2016-11-14 Worldwired Comes Home For The Holidays
[link]
Metallica will wind down the year with a special show at the historic Fox Theater in Oakland, CA on December 17th! Fifth members can
enter to win
an opportunity to purchase up to two tickets at a special pre-sale on November 17th at 10am. Everyone else will be able to buy tickets via Ticketmaster on November 18th at 10am.
All proceeds with be donated to the Alameda County Community Food Bank and everyone is encouraged to bring a donation of canned goods to the venue (there will be collection bins at all entrances).
2016-11-13 Metallica In Beijing
[link]
Metallica will play their first-ever show in Beijing, China! They will be there on January 18th at the Le Sports Center. Check
Metallica.com
for ticketing details.
2016-11-13 Blackened Friday
[link]
Metallica will be counting down to Friday, which they're calling "Blackened Friday," when
Hardwired... To Self-Destruct
is released. To celebrate almost 100 old school record shops in North America will be open at midnight Thursday! They will be stocked with music, prizes and cool giveaways. And yet more stores will be open during normal Friday business hours with more music and giveaways. Check out Metallica's
Countdown to Blackened Friday
site which lists all of the participating stores.
And if you can't make it to a store, Metallica is running a contest to be an honorary Blackened ambassador! There will be one grand prize winner and ten runner-up winners, on November 25th. Check out
the details
.
2016-11-13 Fifth Members' Take on Hardwired
[link]
IPOM webmaster, Phil, was one of several lucky Fifth Members invited up to Metallica HQ about 3 months ago to hear
Hardwired... To Self-Destruct
in its entirety. You can check out
videos of the experience and our take on the songs
.
Then, last month at Webster Hall in New York, another lucky fan, Sarah Sobek, was also given the chance to hear the whole album, and you can
read her take
.
2016-11-13 Hardwire London and Berlin Events
[link]
Metallica will be heading to Europe for the week to celebrate the launch of
Hardwired... To Self-Destruct
.
Their first stop will be in Berlin, Germany on Monday November 14th. However, the details are still secret! Only the winners know the details!
Next, Metallica will be celebrating the launch of Hardwire in London! On November 17th they'll be on hand November 17th at the HMV store on Oxford Street to hang with fans while waiting for the clock to strike midnight and it's officially Hardwired Day!
Then on November 18th they will be playing a special show for Fifth Members and members who winners who register via the House of Vans site. The show will be at the intimate London House of Vans. Proceeds will benefit The Railway Children who assist children who live alone and at risk on the streets in the UK, India, and East Africa.
Not in London? Not a problem, you can catch the live show online! They will hit the stage at 9pm GMT and it will be streamed live on
Metallica.com
and
YouTube
and
will be available on demand for seven days after that!
2016-10-31 Atlas, Rise! Lyrics
[link]
Atlas, Rise!
is now out, and while official lyrics should be posted soon, IPOM took a crack at
deciphering them
for ya! We'll update them as soon as official lyrics are available.
UPDATE
: Official lyrics have been released and we've updated ours to match.
2016-10-26 Trick or Treat!
[link]
Metallica is providing a chance to hear
Atlas, Rise!
early! The song will be released on October 31 at noon, but starting Friday October 28th you can visit independent record stores around the world to pick up a free limited edition
Hardwired... To Self-Destruct
Halloween mask which will have a special code to download the song a half hour early! For more details and a list of participating stores worldwide check out the
Metallica.com
story!
2016-10-20 ESP and Stern Pinball Ultimate Metallica Giveaway
[link]
Stern Pinball and ESP Guitars have teamed up to offer the ultimate Metallica giveaway of a Metallica Pro LED pinball machine an ESP LTD KH 200 Series "Master of Puppets" Limited Edition Guitar and an ESP LTD Snakebyte "Master of Puppets" Limited Edition Guitar. Fifth members, all ya gotta do is
enter
!
2016-10-20 Vote For The Opening Band
[link]
Metallica wants fans to vote for the opening bands for 4 of their upcoming Latin America shows. And not just any bands - they want local bands! Between now and October 21, bands can
submit their music
. A panel of local music industry professionals will narrow it down to five finalists which will then be posted on Metallica.com and where fans across the globe will vote to choose the final bands.
---
© 1997 - present Phil Dibowitz
Please read our Copyright Info
---