METALLICA MENTIONS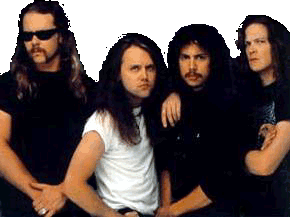 Welcome to Metallica Mentions, where you can see all the interesting places that Metallica has been mentioned, played, used, appeared, etc.
For example, there was a Seinfeld episode where Kramer was trying to sell Opera tickets for a lot of money and George said "These aren't Metallica tickets you know." That's the type of thing you will find here. This is a fun way to share fun times Metallica has been mentioned. If you know of such an instance, email the webmaster, and we'll post it.
METALLICA MENTIONS
RELATED FEATURES
Index
Return to the Metallica Mentions index
Search
Search the Metallica Mentions archives

IPOM News Room
What's the latest Metallica news?
IPOM Calendar
What's up for Metallica this month?
Where Are They Now?
Where are past members of Metallica today?

05/16/10 Sandman on Doctor Who
[link]
They played
Enter Sandman
on "Doctor Who Confidential" last night, May 15. Season 5 Episode 7 was about dreams, and in the "confidential" segment afterwards where they look at the "making of" the episode, they used the apropos
Enter Sandman
.
07/11/09 Step Brothers
[link]
Laura Hutton
writes, "In the move Step Brothers with Will Ferrell and John C. Reilly there are Metallica posters in the guys bedroom. They can be seen quite clearly through most the movie." Thanks Laura!
06/02/08 ¡A DIABLO CON LA MUSICA FALSA; VIVA METALLICA!
[link]
Translation: "To hell with the false music; long live Metallica!" A currently airing Mexican telenovela called
A Diablo Con Los Guapos
("To hell with the handsome men"), features a spunky, tomboyish, young Metallica-loving heroine named Mily. After leaving the orphanage where she was raised, she takes a job as a domestic servant, only to discover that she is the illegitimate daughter of the man of the house and a former employee. While the show features more traditional Mexican musical preferences, Mily's tastes are shown on one of her tomboy hats. It includes several pins, the most prominent one being a MOP album cover pin. The others are more difficult to see; another one might be the Megadeth
Capital Punishment
album cover. Will Mily finally be accepted by her family? Will she finally get to be with her step-brother, who happens to be her true love? And will the show just play some freaking Metallica already??? Tune in and see!
06/02/08 WATCH THE SANDMAN ENTER THE KINGDOM OF HEAVEN!
[link]
A recent commercial for the movie
Kingdom of Heaven
on British TV station Film 4 used Enter Sandman as background music. The movie stars Orlando Bloom and deals with the medieval Crusades to Jerusalem.
00/00/00 WOULD THE REAL JAMES HETFIELD PLEASE STAND UP?!
[link]
There's another James Hetfield out there! I discovered him while digging up info on the Revolutionary War for my genealogy research. So, just who is this guy? He was from New Jersey, and though an American, he enlisted in the British Army... consquently, he was arrested and convicted of treason in February of 1779. From the sounds of it, he was kicked out of New Jersey, and all his possessions were to be auctioned off a month later! Ouch!
---
© 1997 - present Phil Dibowitz
Please read our Copyright Info
---