Insanity Palace Of Metallica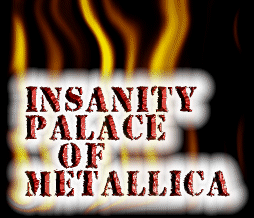 This is where you'll find out who we are, what we're about, why we're here, what we've done, and more! You'll find general information on the site, along with specific information on the IPOM Staff. So look around and get to know us!
What is IPOM?
Click here to read about how we started, what we're here for, what our plans are, and more!
Who is IPOM?
This is where you can read all about the IPOM Staff, and a few others who have played fundamental parts!
Staff Letters (08/29/10)
Rants and stuff from us!
IPOM Newsletter
Here's a newsletter to not only deliver IPOM and Metallica News to your mail box once a week, but also to give you sneak peaks on upcoming IPOM events! Check it out!
Thanks
There are so many people that helped make this all possible! Please click here, and read our thank you list.
Technical Info
Technical information about IPOM.com.
IPOM Archives
Deep in the depths of IPOM, the archives lay. Check out all the pages that are out-of-date, or have been taken down for some reason or another.
Copyright Information
Please read our copyright information.
Privacy Policy
We care about your privacy.
---
© 1997 - present Phil Dibowitz
Please read our Copyright Info
---